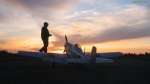 To fly your modelplane in Sweden is not that difficult !
We offer you two very interesting places. Both of them placed in the middle of Sweden, Strängnäs(not far from Stockholm) and Sunne in the north of Värmland about 75 km north of Karlstad (On the top of Vänern Lake)
In Strängnäs and Sunne we work closely with two main clubs and can offer guesthouses and hotels with reasonable prices ! Stay in the guesthouse and fly with the club. In Sweden you can fly with all kinds of planes no exceptions for jet or large scaleplanes ! .